GARDEN IN HEAVEN
There was a special garden in Heaven
Waiting for someone as wonderful as you
So, the Master took your hand
And gave you eternal life, brand new
The angels, we can hear them singing
Small children are telling Jesus the news
There is a new rose in Heaven
Picked by God, that precious rose is you
It's hard for us to let you go
To realize your life on Earth is through
But we are thankful for all of the memories
Seeds of love, planted in our hearts
By a woman who's life was honest and true!
In Loving Memory of Ellie White
Who Became a Perfect Rose in Heaven on
November 5, 2006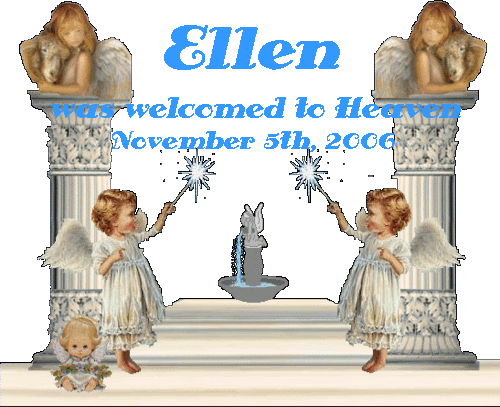 HEAVEN'S NEW ANGEL
There is a new angel in Heaven today
Although I had to suffer the pain
Of my precious Mother going away
I will always miss her
Wondering why she had to part
I will forever hold her memory
Deep inside my heart
I will always be grateful
For the love we shared
I will treasure her memory
Every day, every hour
In the comfort of her love
I will always be. . .
Knowing I have a special angel
watching over me